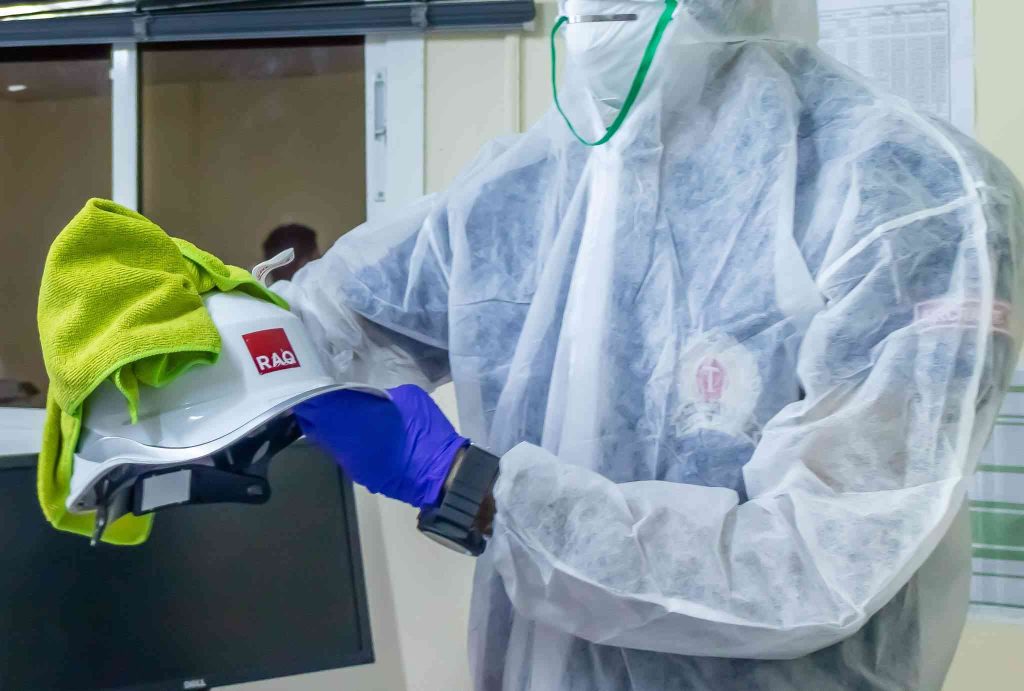 The phase regarding the construction of foundations has been completed, and the first steel structures can be seen now. On completion, it will reach 27-m tall and will showcase the pavilion's verticality: their completion is scheduled by the month of April
Can you tell us if the COVID-19 has impacted your operations?
The pandemic has impacted almost all sectors and industries, posing severe challenges for businesses like ours. The supply chain for special items required by the construction industry has been affected as many vendors, suppliers, and manufacturers have either stopped working or are working in reduced capacities.
RAQ has adopted several mitigation measures mandated by the UAE Government for the construction industry and has acted quickly to follow all the necessary precautions and guidelines.
One of the most immediate challenges was the reduced capacity on UAE's transport infrastructure, resulting in labor shortages and productivity on project sites. To combat this, RAQ provided additional vehicles and buses for staff transportation and some making multiple trips during the day to ensure healthy progress on site.
Furthermore, considering the minimized capacity of the workforce and staff, RAQ implemented weekly progress and supply chain reports to keep track of the company's pace and secure its growth.
The Italian pavilion at EXPO, for instance, remains on schedule with stringent measures taken by the laborers and engineers on site. As declared by the Italian General Commissioner: "The phase regarding the construction of foundations has been completed, and the first steel structures can be seen now. On completion, it will reach 27-m tall and will showcase the pavilion's verticality: their completion is scheduled by the month of April."
Understanding the critical nature of the current situation, RAQ has begun conducting COVID-19 awareness sessions to its staff and workers in order to keep operations running in a safe environment. RAQ persists during the COVID-19 crisis by carrying out a deliberate strategic plan and keeping projects' progression in check, along with ensuring the well-being of the employees.
What are the measures taken by the company to ensure that everybody at the construction site and at your offices is safe? Has work from home been implemented for those working at the head office?
RAQ Contracting is committed to doing its part by ensuring the health & safety of its employees and visitors by following these guidelines:
Check-in/out is done through iris or facial recognition instead of biometrics
Forehead temperature of employees and visitors are taken by an infrared thermometer and recorded for the HSE heads to take action if required.
Personal items, desks, chairs, and other unattended items are being disinfected before and after working hours on all sites.
Social distancing is practiced among employees and other visitors. Employees who can work remotely are encouraged to stay home to maintain working individuals at the office to "essentials only."
Hand sanitizing dispensers are placed at entrances and exits of every room. Pantry staff must wear gloves and masks at all times.
Self-quarantine is imposed on employees experiencing symptoms or returning from travel.
Staff and workers dorms along with site offices are undergoing periodic disinfection.
RAQ had implemented a new seating chart policy for its employees to reduce the office capacity by 30% and ensure that social distancing is practiced.
Personal Protective Equipment (PPE) are being distributed daily amongst RAQ employees
Other MOHP and WHO guidelines where applicable to our industry are being actively enforced.


How about at the labor accommodation – considering the large gathering that takes place there – what steps have you taken to ensure that the laborers are safe?
We are following the regulations and instructions enforced by the relevant authorities, Dubai Municipality, Dubai Health Authority, and the Ministry of Health and Prevention.
This includes periodic disinfection and sanitization of all staff accommodation, furniture, and living spaces. Hand sanitizing dispensers and bottles are placed at every door/room as well.
All employees have been provided with a guide to practice effective personal hygiene.
To ensure social distancing is practiced, closure of specific public amenities like gyms, meeting rooms, activity rooms, and entertainment rooms has also taken place.
Medical facilities have been provided 24 hours a day. A registered nurse is deployed on each of our three labor camps, and daily temperature checks are conducted and logged for each staff member.
Self-quarantine is imposed on any individual who had recently traveled or come in contact with an infected person(s).
Furthermore, all transport vehicles are disinfected regularly, and commonly touched surfaces are sanitized twice daily. Hand sanitizing dispensers are fixed on all vehicles
To ensure that regulations to adhere to strictly, a clear instruction list has been issued to all transportation/logistics and sites to reduce the capacity to 25% in all transport vehicles.